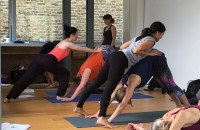 The art of adjusting yoga postures is a unique skill. During this training week you will learn adjustments for each posture in the Primary Series. This is a comprehensive training packed with information and practice. You will have the opportunity to learn, in great detail, the subtle mechanics of posture practice, how to work with injuries, advanced asana adjustments and much more.November 18-22
Mon-Fri
10-5pm
£350

11 Pember Road, London, NW10 5LN.
10 minutes' walk from Kensal Green tube and overground station (Bakerloo line) and 10 minutes from Kensal Rise (overground)

Booking: ryan@trueryan.com 07951 515 667 
Performing adjustments is one my favorite ways to share the practice. It is direct. It cuts through the mental noise that so often gets in the way of the experience of Yoga. Over the many years that I have been teaching Ashtanga I have developed a fresh perspective on adjusting. My adjustments come from an intuitive understanding of the body stemming from my own practice, my training in massage and a natural talent for seeing the mechanics of posture and form."
Booking: ryan@trueryan.com 07951 515 667
A master class for Ashtanga teachers and advanced practitioners.
"I really enjoy sharing what I have learned over the years. If you are a teacher looking to enrich your toolbox or simply a dedicated student of Yoga you can benefit greatly from this fun and information-packed training."
A good grasp of the Ashtanga system is required. We will be discussing the practice, the body and the adjustments at a high level of understanding. This workshop will give you excellent tools to use in your classes. It will help you think about postures in new ways as well as enhance your own practice.
Booking: ryan@trueryan.com 07951 515 667
Testimonals
"Ryan never puts you deeper into an asana, he guides you deeper into an asana. As a self-practitioner this subtle difference is vital to my goal of achieving the asana on my own. His adjustments and his very presence allow you to go deeper than you ever imagined, but you are still doing the work, you are responsible for the asana. This approach develops physical and mental intelligence which can be applied not only to that particular asana but to the entire practice." – Rani
"I truly appreciate that you are focused entirely on me when you are adjusting me… it makes me feel safe and comfortable and able to relax and trust you. Consequently my body releases its tension and I can breathe and enjoy the posture. I also appreciate that you don't have  a "one size fits all" approach to adjusting. You take your time to tune in and figure out what adjustment is need for each individual on any given day and adapt your adjustments accordingly. Sometimes I am so frustrated and impatient with my own physical body and want to give up on the postures that challenge me, because I don't think I will ever be able to do a posture… but I love the fact that you are so patient and persistent every day over months and years of my practice giving me the support and adjustments I need…in a calm and non-judgemental way." – Celesta
"Ryan's gentle yet firm pressure prompted my postures into a comfort zone where I never felt the pressure to outperform myself or my asana.  It was with this stance,  I felt more motivated to push myself further with the warmth of a teacher's guidance. What a contrast from those who fix their hand on your back and insist you just 'push further so your forehead must touch the groud'. With Ryan's touch, every adjustment felt gentle and natural and therefore inspired me to organically touch the ground." – Puja
"Ryan creates a very welcoming, safe space at his Mysore classes. It's less about correcting you as you practise and more about stepping in when the time is right to encourage you in an asana. Upavistha Konasana was a good example recently. After feeling very stuck at Baddha Konasana for months and then to be encouraged to try Upavistha and shown how to stretch out on the mat a little more and that was enough. Even a small step forward can make you smile." – Anna
"I spent a week in London this spring. I had checked for yoga studios close to where I was staying and was lucky enough to stumble in Ryan's Mysore room. There are two adjustments that have impacted me. First his gentle yet firm hand on my mid/upper back while adjusting me on Marichyasana C and D. This adjustment helped me feel grounded and it opened my mid and upper back (in only 4 days!!). The second assist was the one he offered to help me come up from drop backs. I've had a few teachers try to help me lift my heels while coming up (I lift while dropping back but open them while coming up), but Ryan's attitude, trust, challenge, and patience did its magic and on my last day I did it by myself. Thank you Ryan" – Dalia